Toys
New Toy: Dinosaurs!
November 16, 2023 •
3
min read
Explore an ancient land and the cretaceous creatures that call it home.
Calling dinosaur fans of all ages…
Since our Dinosaur update to Busy Book in 2022, we have heard from so many families who were eager to see more Prehistoric pals in Pok Pok!
We're delighted to share that our team has pulled out all the stops to give you a new land inhabited by these creatures.

Our new Dinosaurs toy offers all the learning opportunities of our beloved pretend-play toys, but with the excitement of this era. While kids exercise skills like cause & effect, storytelling, and problem-solving, they'll be doing so amidst mysterious flora and fauna set in various alien environmental biomes.
Whether kids want to roll boulders through diverse terrain or roleplay as a T-Rex, this toy truly has something for every kid.
What can kids learn?
As kids explore every corner of this world, they will begin to unravel the connections between creatures, and their relationship to the land. Which dinos are herbivores and carnivores? Does each breed prefer a certain biome? Are there sections of this land that need to be navigated more carefully? Here are a few of the lessons they'll learn along the way.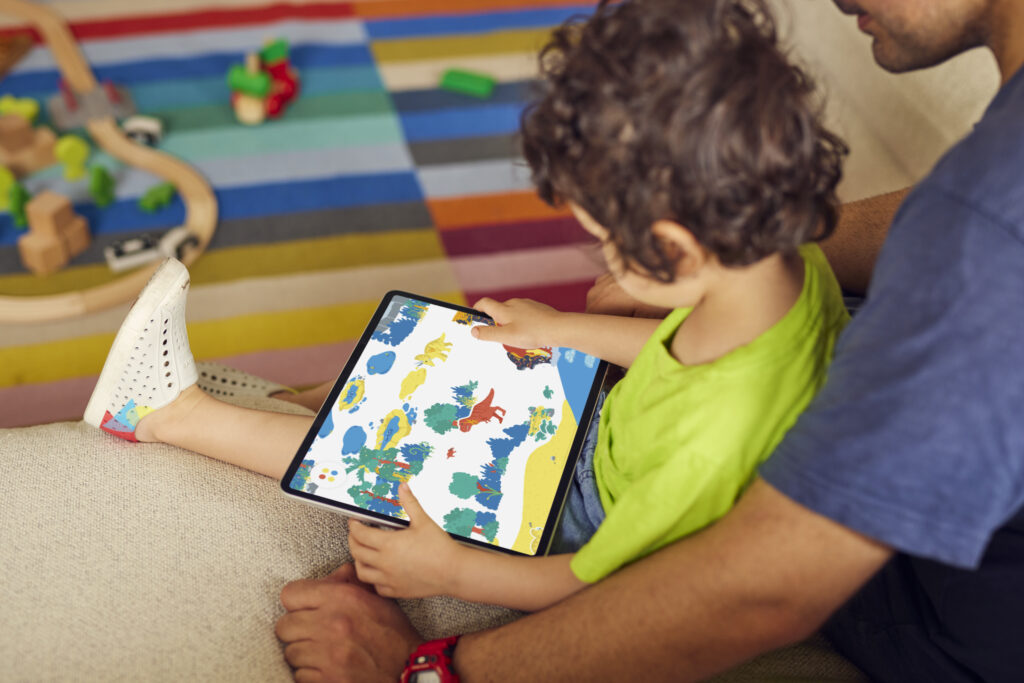 Life Cycles
Much like our recent "Homestead" update in House, Dinosaurs will introduce life cycles. Kids who are intrigued by concepts like the food chain can explore the end of these cycles while others can take joy in hatching dino eggs and guiding the new babies through the land.
Cause & Effect
Little ones will exercise cause & effect to solve problems and achieve the results they desire. Children are master experimenters who like to push boundaries to get a sense of what's possible. As they test limits, they may recognize how those actions have reactions that lead to more decision-making.
Thinking Ahead
While characters in our other toys can be dragged around, a neat feature of this toy is that kids will have to trace a path for creatures they want to move. This will encourage little fingers to slow down and be more methodical about their movement—especially as they learn which interactions they want to avoid!
Fine-Motor Skills
Continuing from the above, the tracing practice that will be required to move creatures is a great fine-motor activity! Additionally, there are draggable objects like rocks, leaves and even water, that can be applied to an array of interactions.
Storytelling
The storytelling and role play opportunities in this toy are rich and endless. With the dinosaurs and biomes holding their own unique characteristics, little storytellers will have plenty of inspiration to craft their own narratives and even chat up a storm as they play.

These are just a few of the ways that our new Dinosaurs toy can foster learning and there are bound to be plenty of surprises along the way. We can't wait for your little ones to dive in and find something that sparks their curiosity!
Open Pok Pok now to explore Dinosaurs.
---
We've been so inspired by the unique approach of each child who plays with our toys and can't wait to hear what families like yours think of this one. Receiving your feedback, videos and ideas for new updates is so important for the growth of Pok Pok so please say hello at hello@playpokpok.com or on social media @playpokpok.
Join our community to get insights from our educators and take a peek behind the scenes into our toy design process over on our Instagram and TikTok.